Frame what's going on around you!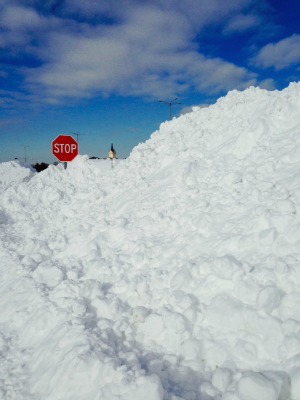 12.4.14 Volume #4
November brought snow back to Buffalo NY in staggering amounts! Some areas had over 7 feet.
YES - 7 FEET - in just a 3 day period.
I took this picture the day after the storm because it struck me as quite powerful.
It showcases a ridiculous amount of a snow with a dwarfed and defeated plea of STOP. Certainly, worth framing.
Pay attention to life around you for great gift ideas that you can frame!!
---
Give-A-Way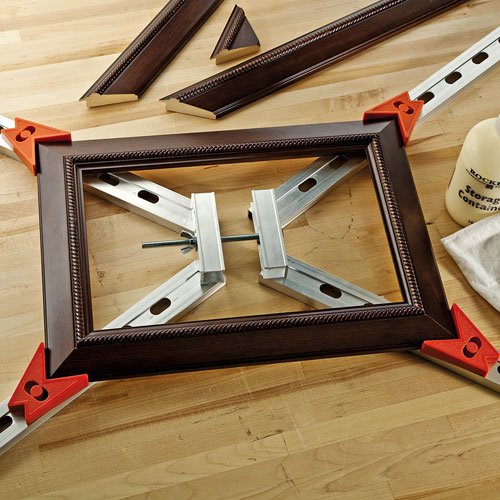 Congratulations to Kent from Iowa, the winner of the Picture Framing Clamp give-a-way!!

Several people threw their hat in the ring (making comments on several different pages of the web site), thanks to everyone who participated.

More give-a-ways to come....

---
Tip of the Month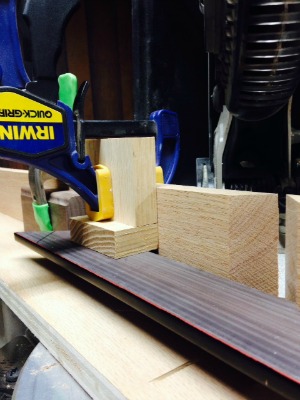 On the site I mention the importance of not changing your process while cutting miters.

After cutting the 1st miter corner simply flip the rail over, end to end, and cut the 2nd miter while the molding is face down.

Works great with a lot of shop made molding.

Not so much with molding that doesn't have flat edges.

If you face this challenge you can do a few things:

1 - turn your miter saw around and cut from the other side. Be very careful to ensure the opposing rails (top and bottom, side to side) are identical in length.

2 - cut them on a table saw using a miter sled

3 - make a 90 degree fence clamp, like the one shown, to hold the molding square to the fence. The clamp uses the flat surface of the back of the molding to square it up and hold the molding "flat" on the bed.

Once clamped down hold the molding also to ensure it doesn't move while making the cut. Be sure to think safety first and keep your hands well away from the blade as you make the cuts.




---
Questions from the Gallery
This question actually comes from me.

What would you like to see covered or covered in more detail on the site?

I plan to spend a lot of time in the upcoming year to expand and improve the site and would love to target the things that matter most to the people visiting the site.

If you have a suggestion, please let me know.
---
Have a great holiday season to everyone and happy New Year!!!

Until the next time, remember every picture is worth a thousand words - and a frame to hold it!

take care Al

Go to Picture-frame-it-yourself.com

---